Happy Holidays to all! This is the time of year where giving means more than receiving. To see the joy on a loved one's face as they look in their stocking or open a present is truly what giving is about. The Team at Cedarbrae and Danforth Orthodontic Centres would…
Read More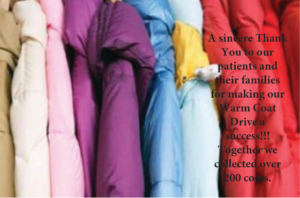 Wow, we did it!!!! Thanks to our patients and their families we collected over 200 coats for our Warm Coat Drive.  Together we were able to help 200 people stay warm this winter.
Read More
Perfect Smile…Have you ever given any thought to what it actually means to have a "perfect" smile? Most people when asked this question will conjure up mental images of models and Hollywood actors with dazzling teeth. However, there is an actual medical definition of the way the teeth are meant…
Read More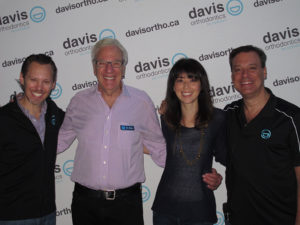 This past Saturday the team at Davis Orthodontics had the honour of hosting our amazing patients and their families at our Movie Day Event at Silver City Theater in Richmond Hill. Together we collected over 2250 pounds of food that was donated to various local food banks. THANK-YOU THANK-YOU THANK-YOU!!!!!…
Read More
Orthodontics…not just for kids anymore. Years ago when people thought about orthodontic braces they pictured a pre-teen or a teen ager with a mouth full of metal. But times have certainly changed. Today, orthodontic treatment is not just for kids any more. People of any age group can now have…
Read More
Leading-edge training within this nation is very quickly becoming a need within the home business group in lieu of an extravagance. In the earlier the men and women who had a secondary school instruction however experienced the prospect to manufacture a top-quality earth for by themselves and their households. All…
Read More
Now is the time to start thinking of the perfect gift for your special teen or adult in your life. What better way to express your sentiments and thoughts than to give someone you love the beautiful smile they always wanted. An Invisalign Smile is the perfect Holiday gift! For…
Read More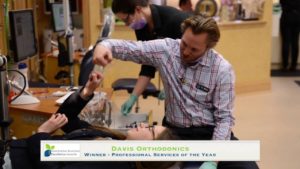 Davis Orthodontics is proud to announce we have won the Newmarket 2016 Business excellence award. Please feel free to watch our video.
Read More
Halloween was also known as All Hallows' Eve in some circles. It goes as far back as about 2,000 years to a pre-Christian Celtic festival held around Nov. 1 called Samhain (pronounced "sah-win"), which means "summer's end" in the Gaelic language. Halloween costumes and the tradition of "dressing up" may…
Read More
Orthodontic Health Month…You probably are not aware that this even exists. Well it certainly does. October is the designated month to increase peoples' awareness regarding oral health and beautiful smiles. A beautiful smile can open so many doors in both your social life and business life. The Team at Cedarbrae…
Read More
If you have an appointment on October 31, earn 10 Davis Points by wearing a costume or dressing in orange and black! Click to Enlarge…
Read More
We know what you're thinking – holiday cards, so soon? But at Cedarbrae and Danforth Orthodontic Centres, we need to think ahead if we want to uphold our traditions! Every holiday season, we send out a holiday greeting card to our professional colleagues. The best part of this is inviting…
Read More