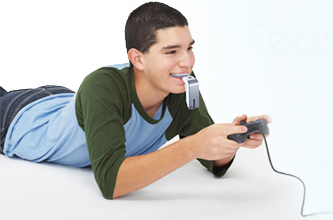 Have a big day coming up? Whether you're preparing for graduation, a wedding, prom, or any big event…every day counts. We're introducing a way for you to accelerate your new smile at least six months ahead of schedule. The AcceleDent system is designed to compliment braces and Invisalign to decrease your treatment time by 30-50%.
All it takes is 20 minutes per day using the Acceledent activator. Simply bite into the activator device and it generates small micro pulses similar to those of an electric toothbrush. It is easy and comfortable. Many patients have noted that they experience less discomfort using this system.
AcceleDent is safe for both children and adults. It was introduced in the United States in 2011 and in 2013 in Canada. AcceleDent is classified as a medical device.
"Almost all of my patients wish their braces could be removed earlier.  Now, it's possible thanks to AcceleDent," notes Dr. Kevin Davis.
Ask the Davis Orthodontics team today about how you can get on the fast track to straight teeth. Contact us today for a consultation.